Top Message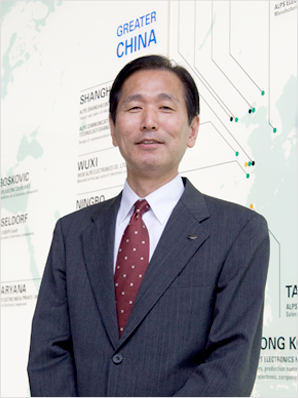 President
 Fiscal 2017 (the year ended March 31, 2018) was the second year covered by Alps Electric's 8th Mid-Term Business Plan. In the automotive market, business was firm across the board, including for such products as control and input modules and RF communication products. In the consumer (and others) market, various products for smartphones maintained a high level of sales, while products for game consoles also achieved steady expansion. EHII markets were targeted by proposals put forward in a variety of sectors, including the Internet of Things (IoT) domain. This performance, combined with the effects of a weaker yen than anticipated at the beginning of the year, resulted in steady earnings growth. Fiscal 2018 (ending March 31, 2019) is forecast to start in difficult conditions as the recent slowdown in the smartphone business has an impact. Meanwhile, the automotive industry is entering a once-in-a-century period of major transformation in the form of "CASE" trends (connected cars, autonomous driving, sharing and electric vehicles). With sights on achieving sustained growth, steps will be taken in automotive product business to prepare for the next stage of growth in these new CASE domains.
 In the automotive infotainment segment, Alpine Electronics, Inc. commemorated its 50th anniversary last year. Final results for the segment in fiscal 2017 were higher than forecast as sales of Alpine brand products for the aftermarket and genuine products for European automakers increased.
 In the logistics segment operated by Alps Logistics Co., Ltd., a large warehouse was opened in Kazo, Saitama Prefecture and domestic transportation and warehousing functions in Japan were strengthened looking ahead to future growth. Progress was made bolstering networks and developing customers in new markets overseas, too, where freight volumes steadily increased.
 In July 2017, we announced our intention to integrate the businesses of Alps Electric and Alpine Electronics. Subsequent deliberations resulted in a decision to establish an operating holding company, Alps Alpine Co., Ltd., as of January 2019 as a way to steadily achieve the objectives and benefits of the integration, as well as to meet the expectations of automakers, who are customers. We believe this format will make it easier to utilize the extensive management resources held by the two companies, including technology and human resources, while also allowing faster decision-making and maximizing of synergies.